Monitor 24-7 News February 2020
2020 is on its way and we are happy to see that many clients have upgraded to our latest release 9.7.5X. If you have not upgraded yet and forget what has changed, have a look at the 9.7.53 web page. This 9.7.53 release was heavily focused on improving our user experience based upon customer input. As promised in our last release message we are on a relentless pursuit to continually improve our user experience. During implementation, testing and discussions with clients we have identified more wishes. As customer satisfaction is our top priority we are working hard to realize these wishes. Our next release which is in Beta now will have more user interface updates. A key new feature that many clients have asked us is a network scanning feature. And yes! It is coming. Our next release, which is expected within 2 months, will have an advanced network scanning tool which automatically loads assets into the CMDB - completely agentless!!
For our upcoming release we will introduce a network discovery feature in IncidentMonitor™. The development is well underway, and we are seeking participants for our Beta program to help us test and finalize the feature set for this release. The goal of our Network Discovery feature is to allow a very simple way to scan your network and automatically add any Configuration Items (CI or assets) of interest to the system. This will also build the network diagram for all the devices found.
In this beta we will be primarily focusing on network scanning (read only) of devices in your network and the processing of the CIs / assets into IncidentMonitor.
Call to participate in a test for the new Network Discovery solution
We have almost finished our Beta version and are looking for clients who would like to help finetune the network discovery solution. If you're willing to participate all we ask is that you can spend a few hours (or as many as you want) of time setting up a network discovery scan in your environment and providing any data required to review the features/functions.
Participation
Due to the diverse network devices possible we're interested in participants that have a multitude of different devices in their network. We're looking for 25 participants that meet the entrance criteria so space is limited and we will accept participants on a first come first serve basis.
Summary
If you feel this is something you would like to participate in and you can meet the prerequisites, please contact our Sales team by responding to this E-mail.

DevOps and ITIL Merge In IncidentMonitor
Many clients have requested DevOps/Agile views into the data. We have listened. In our next release we will introduce a Kanban overview. Requests presented in swim lanes with the option to drag and drop requests from lane to lane. This view is available for both a request process view and a resource view. The Request Process Kanban view uses milestones where the Resource Kanban View uses resources within a team to create the swim lanes. The milestone Kanban view gives you a great insight in the status of a request with the ability to quickly and easily change the status by dragging and dropping the request. The resource Kanban view shows you who is working on what. You can filter on teams and you can assign requests to other resources simply by dragging requests from one resource to the other.
Request preview
We're continually reviewing/refining the request preview window. We have touched this a few times in the last few releases and try to keep on improving this. This is one of the most used area's of the application and we feel it is important that this works as simple and fast as possible. If you have any suggestions – let us know! Scroll down to the next paragraph and see what will be coming in the next release. The request journal showing the tasks is updated. We now make it easier to see who said what. End user comments are visualized through colour as well as position of the profile picture.
Tip. Have you used the milestones already?
In the above paragraph we mentioned the milestones. Do you use milestones? Milestones are a great way to visualize the status of the request and are a great way to set expectations with your end users. Milestones can differ per type of requests. Below is an example of a purchase request where the milestones almost work like a webshop. For new hires, changes, break/fix incidents, etc.. these milestones will be completely different. Milestones are set on the task properties. Simply checkbox the property and the milestone will pop up on the request preview for the resource and on the form for the end user.
As you can see users can see the immediate status of the request and the future steps that are required to fulfillment. It's a great way to manage expectations with your user community and to also let your service personnel what still needs to be done..
---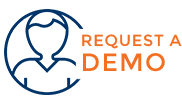 ---